WEIGHTLIFITNG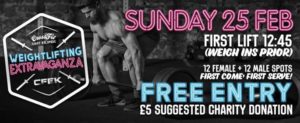 Hi guys,  there are still a few spaces for this.  This is open to all abilities and is a great opportunity to anyway looking to lift in a competition or have a bash at it.  Please speak to either Ally or Simon if you wish to take part or if you are not sure if this is for you.
THE OPEN
We want you guys to be involved this year with the Open and make CFEK's Open experience something to remember and something to build on every year!
To sign up click the link below. It costs $20 and make sure you select CrossFit East Kilbride as your affiliate and team.
https://games.crossfit.com/cf/login?returnTo=%2Fregister%2Fathlete&flow=games
Look forward to seeing you in the Open!
WODs
Monday
50-40-30-20-10
Dumbbell snatch 22.5/15
Sit up
Press up
Tuesday
A)
Back squat 5-5-5-5-5
B)
Tabata kettle bell swing (american)
Tabata wall ball
Tabata air squat (to med ball)
Wednesday
A)
Strict pull ups 4 x 10
Ring dips 4 x 10
B)
10 min amrap
EMOM 12 minutes
Odd: 15 Burpees
Even:
30 double unders
8 TTB
Thursday
A)
2 min ski
2 min row
2 min bike
2 min rest
x3
Friday
3 minute Window
21 Box Jump over
15 Wall Balls
Max Thrusters at 60kg / 40kg
Rest 3 mins
x 5rounds
Saturday Sweat
1000m Row
200 Double unders
50 Burpees
30 Clean and Jerks 60kg / 40kg
Saturday Strength
A) Clean 5-5-5-5-5
B)
Clean Pulls
5 x 3